2023 recipients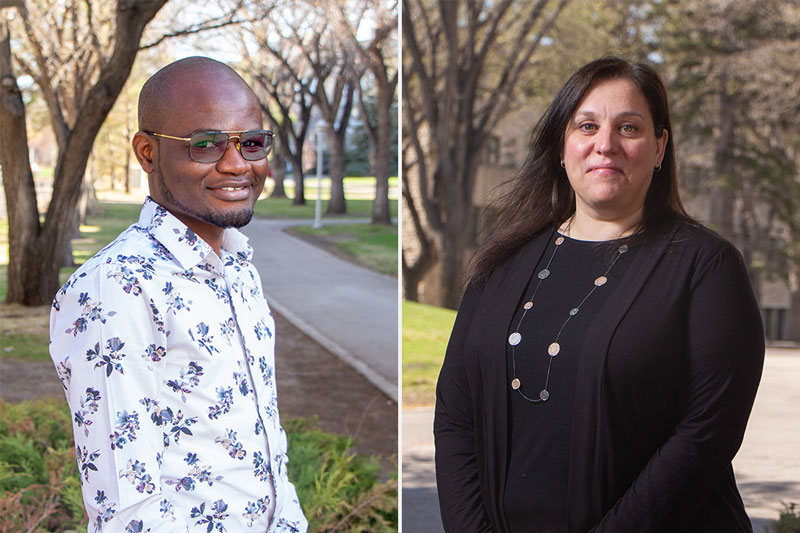 Award overview
The Dean's Distinguished Staff Award is an annual staff award which recognizes and formally acknowledges two outstanding members of the College of Arts and Science staff and the extraordinary contribution they make to the working environment.
This award allows staff and faculty to show their appreciation for a colleague who consistently goes above and beyond in their contributions to the workplace, to recognize a colleague who has distinguished themselves in their work.
Staff members nominated for this award will have made a significant contribution to their workplace through excellence in overall work performance and quality of service, and will have demonstrated the college values of integrity, diversity, creativity, innovation, knowledge and personal growth.
Eligibility criteria
The Dean's Distinguished Staff Award is open to any staff member of the College of Arts and Science, including all CUPE 1975 and ASPA members, and Exempt members, with a minimum of two years of service as of the nomination deadline.
Employees who have previously received the award are not eligible.
Nomination criteria
Who may nominate?
Any college employee, including staff, faculty and administrators, or any student, may nominate a staff member for the Dean's Distinguished Staff Award.
You can nominate employees from within or outside your own unit or department.
---
Dean's Distinguished Staff Award Nomination Criteria
The distinguished staff award criteria are based on the university's and college's core competencies and values of excellence, integrity, diversity, creativity, innovation, knowledge and personal growth.
Nominees need not meet all the criteria, but please identify at least three qualities that apply to the candidate.
Demonstrates excellence in overall work performance

Consistently provides excellence in job performance in their regular duties
Exhibits good organizational and leadership skills
Shows motivation and desire for excellence
Provides exceptional service to clients
Demonstrates commitment to the department and the College by performing services beyond the requirements of their job responsibilities
Is knowledgeable about the job duties and the University
Exhibits high levels of energy and commitment to the department or work unit
Contributes to a positive and productive work and learning environments



Continually contributes to a respectful, diverse and collaborative work environment

Is willing to share their knowledge, skills and experience with others
Treats others with dignity and respect
Is a person from whom others seek guidance and advice
Builds opportunities through collaboration and partnerships
Earns the respect of others through professionalism, team work and contribution to morale
Participates willingly and openly supports team or departmental decisions
Promotes positive experiences and morale
Exhibits a congenial, supportive attitude when providing service to others
Interacts with co-workers, students and faculty in a positive, responsive and cheerful manner
Values the diversity of the University community, including the people, their points of view, and the contributions they make



Demonstrates ability to initiate, implement, and support innovation or creativity and institutional change

Addresses problematic situations and suggests creative ways to resolve them
Adapts and maintains productivity in an atmosphere of changing practices\
Demonstrates an optimistic attitude towards change



Exemplifies excellence and integrity in workplace relationships, interactions, and decision making

Recognizes and gives credit to successes of others
Demonstrates integrity and ethical conduct in words and deeds
Understands and demonstrates the need for confidentiality and discretion
Identifies shared interests to develop positive outcomes
Values and considers different points of view before making a decision



Is committed to making the university experience a positive one for students

Demonstrates commitment to the development of quality programs and/or activities that contribute to students' personal and academic development and/or the university experience
Demonstrates commitment to "being there" for students when they encounter personal or academic problems.



Takes responsibility for personal growth and development

Seeks out and appreciates feedback, demonstrating a commitment to learning
Shows an interest and effort in continually enhancing skills and quality of work
Demonstrated commitment to learning
---
Nomination Requirements
A nomination must clearly state the nominee's merits and concrete examples of the candidates' exceptional performance and distinguished service. Nominations should be made with objectivity and professionalism and be supported by at least two persons (in addition to the nominator) and by the nominee's supervisor (as one of the two persons, if not the nominator).
A nomination must include:
Completed Nomination Information Form (on PAWS) - details the facts supporting this nomination
One Nomination Letter

 

- Not more than 3 pages maximum addressing the following information:

A brief description of the nominee's job responsibilities
Description of how the nominee meets at least three of the six award criteria.

Two support letters

 

- 1 page maximum per letter Support letters should come from two of these groups: coworkers, supervisors, faculty, students, and other UofS affiliated employees.
Note:

 

As the Nomination must also be supported by the nominee's supervisor, ensure that nominee's supervisor provides either the nomination letter or a support letter.
---
Online Nomination Process
Note: in order to complete the Nomination Form on-line you must have electronic copies of the nomination letter and support letters available for submission with the form.
Nominations are closed for this year
---
Selection process
The Selection Committee will be appointed by the dean and will consist of three people who are not eligible to be nominated for the award, and may include membership from other areas of the university, as well as a human resources representative.
Nominations will be reviewed by the committee using the eligibility and nomination criteria described above. The committee will forward its recommendation to the dean, who will make the final decision.
The award
The winner of the Dean's Distinguished Staff Award will be acknowledged with a certificate in recognition of their special contribution and $1,000 (net of tax).
For further information, contact the Dean's Office at 306-966-4232 or by e-mail at dean.artsandscience@usask.ca.
Past recipients
Year
Name and position
2022

Patrick Bulas

Printmaking Studio Technician, Department of Art and Art History
2022

Barbara Reimer

Photo and Digital Technician, Department of Art and Art History
2021

Shannon Boklaschuk

Communications Officer, College of Arts and Science Communications Office
2021

Joni Morman

Graduate Program Coordinator, Department of Psychology / Arts and Science Administrative Support Group
2020

Sharla Daviduik

Manager, Arts and Science Administrative Support Group
2020

Erin Wasylow

Office Coordinator, Department of Chemistry / Arts and Science Administrative Support Group
2019

Joseph Anderson

Office Coordinator, Department of Art and Art History / Arts and Science Administrative Support Group
2019

LaVina Watts

Interdisciplinary Programs and Study Abroad Coordinator, Office of the Vice-Dean Academic
2018

Marjorie Granrude

Clerical assistant, Department of Physics and Engineering Physics
2018

Nadine Penner

Graduate Programs Administrative Coordinator, Administrative Support Group
2017

Donna Bilokreli

Student Advisor, UGSO
2017

Kyla Denton

Administrative Coordinator, Department of Mathematics and Statistics
2016

Sheryl Prouse

Director of Student Advising
2016

Ted Toporowski

Machine Shop Technician
2015

Ronda Duke

Department Head's Secretary
2015

Lana Elias

Director of Science Outreach
2014

Alexis Dahl

Director, Arts and Science Programs
2014

Margarita Santos

Administrative Clerical Assistant, Department of Mathematics and Statistics
2013

Brenda Britton

Office Manager of the Department of Geography and Planning
2013

Joan Virgl

Executive Assistant to the Head and Graduate Chair for the Department of Biology
2012

Gloria Brandon

Director of Student Advising Services, UGSO
2012

Lori Giles

Clerical Assistant, Department of Sociology
2011

Mary Jane Hanson

Adminstrative Assistant, Department of Economics
2010

Gary Brunet

Associate Director of IT, College Office
2009

Troy Linsley

Administrative Assistant, Department of Music
2008

Cheryl Piche

Head Secretary, Department of Mathematics and Statistics